SEO or Search Engine Optimization is basically the process to improve the visibility of any given Website in Search Results. Our Software Company in Panaji offers SEO Services at affordable rates and targets towards getting more visitors to your website from Search Engine Results or Organic Search Results as they are called technically. Our SEO Services target towards getting visitors from Google Web Search, Google Image Search, Google Local Search and even from Youtube. Yes there are many other Search Engines like Bing, Yahoo, altavista, etc, but the SEO process is more or less the same for all Search Engines.
Getting SEO done for your Website can potentially bring in more visitors to your Website and is basically a competition between your website and other related competitor websites. Our SEO Strategy for any given Websites starts by understanding your Business and then we analyze how your Website has been designed and whether it does provides appropriate information to visitors of your website and to Search Engine Bots. Our SEO Process do take care into consideration the number of visitors your website is receiving and what words do visitors to your Website search and arrive at your Website. Yes there are lots of technical stuff involved in promoting a website online and read on to understand what all our Software Company in Panaji of Goa can do related to SEO for your Website.
For doing Search Engine Optimization (SEO), the very first thing we do is check existing content of your Website. The content of any given Website is basically a collection of Text and Multimedia content like Images, Videos, Audio Files, etc. In case your Website content is copied from some other Website, then basically your website is promoting some other website indirectly. Google and other Search Engines do understand who is the original author of any type of Website content. In case your Website does have some content copied from other websites, new content must be produced by creating new content. However before doing any changes to existing content of you website, we would ask your permission and only when you approve the changes, the new original content would be added to your website. In order to review the changes to your website content, you can either come to our Panaji Office or have a telephonic conversation along with email communication.
In order to understand existing visitors to your website from Search Engines, we review your website's Analytics. In case your website does not have Google Analytics or any other Visitor Tracking installed, we add the Analytics code to your website and wait for a couple of days to understand how many visitors are coming to your website from Search Results of Google and other Search Engines. Yes this is an important step, as it would help you as a Customer and our software company as a SEO Service Provider to establish the number of average users visiting your website. Once the SEO has been done for your website, we both can verify the increased number of visitors to your website. SEO to be done for any given Website can be one time or it can be an ongoing process and it all depends on various factors like what your competitors are doing to promote their website, how much money you are willing to spend, how much profit you are going to make with increased number of visitors, etc.
The Most important aspect of SEO is appropriate and rich content targeted towards appropriate keywords. Working as Search Engine Optimizers from Panaji (in Goa India), We do understand the power of Content Writing and our Content Writers can write the best Text Content for your Website. Google and other search engines now do understand that stuffing keywords is basically spamming and hence the text content we write is original and related to specific keywords without being considered as spam by search engines. We do provide Content Writing Services so that the Text can be added as Articles to Websites, Submitted to News Websites as Press Release or even as Tutorials with appropriate Multimedia Content.
Internal and External Links on any given Websites play an important role in the SEO Process. Our Search Engine Optimization Service do analyze internal and external links in your website. We use Google Webmaster Tools to assist us in understanding how links are placed on your website, check for any broken links, check for dofollow and nofollow links, etc. Once the Text Link and Image Links have been analyzed, we again ask your permission to make the changes to your website so that the text and image links together help visitors of your website to navigate easily and quickly throughout the pages of your website. This Internal and External Link Optimization also makes sure that Search Engines also understand which are the most important pages of your website so that visitors can be sent to the most important page of your website as quickly as possible.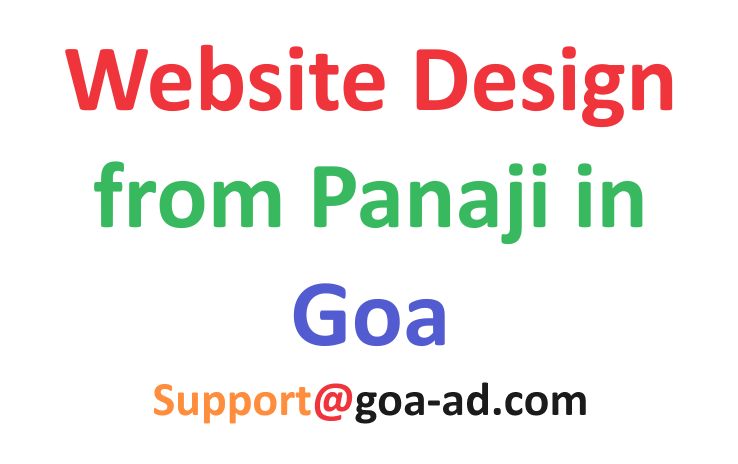 Website Design Panaji Goa
Backlinks to your Website are another important factors in doing SEO for any given website. Our SEO Service generates related backlinks to your website so that your Website can rank higher in Search Engine Results for related keyword search. There are multiple ways to get Backlinks to any given website like Directory Submission, Article Submission, Press Release Submission, Video Submission, Providing related Free Content to visitors and many more. Higher number of backlinks to your website from other related websites, the better ranking your website will have in Search Engine Results. Our SEO Service takes care of getting more backlinks to your website and yes you will be able to verify this SEO process using Google Webmaster Tools.
The above paragraphs should give you an idea of what SEO Services we provide from Panaji. Lots of other technical stuff is done when doing Search Engine Optimization for any given website. Given below short description of other steps we do for doing SEO for any given website. In case you do need more information on any of the topic given below, please feel free to search this website or visit our Panaji Office. Apart from SEO, we also provide other Website related services and feel free to Contact Us for more information about any Website Service that we offer.
Sitemap Creation and Submission to Search Engines in xml format so that Search Engines can Index all the pages of your Website and present them in their Search Results.

Video Creation for promoting your Business or Service. We also create and submit Video Sitemap to Search Engines so that the Video can be displayed in Organic Search Results.
Video Submission to Video Websites like Youtube, Vimeo, Dailymotion, etc. This SEO Step can bring you potential customers as videos are the best way to communicate about any Business or Service Offers.
Automatic Daily, Weekly or Monthly Website Performance Report can be setup to be sent to email address of your choice.
Establish Online Social Relationship by setting up Google+, Twitter, Facebook and other Accounts. You will be able to track the number of visitors from Online Social Website Sources in your automatic SEO Report.
Submission of your Business to Local Listing of Search Engines so that people looking for related products / services can communicate to your directly by phone or by your website.
All the above said SEO Services are provided by our Software and Website Designing Company in Panaji. You are welcome to visit our Panaji office with prior appointment. Let us bring more visitors to your website by providing you the best Search Engine Optimization Services in Goa. Please do mention the Website URL, targeted keywords, your competitors websites and any other related information when enquiring about hiring our SEO Services. Search Engine Optimization takes time and getting higher number of visitors can take few days. In case you would like to receive more visitors to your website starting right now, you can opt for paid Website Advertising methods such as PPC (Pay Per Click), CPM (Cost Per Impression), Online Banner Advertising, etc.